This month's Kulinarya challenge is Arroz Caldo. Perfect timing because I had been intending to make it anyway. Perfect theme for rainy, cooler weather here in Southern California. This is also the first time I am making this dish. I have made similar chicken and rice stews and soups, but never the traditional FilipinoArroz Caldo.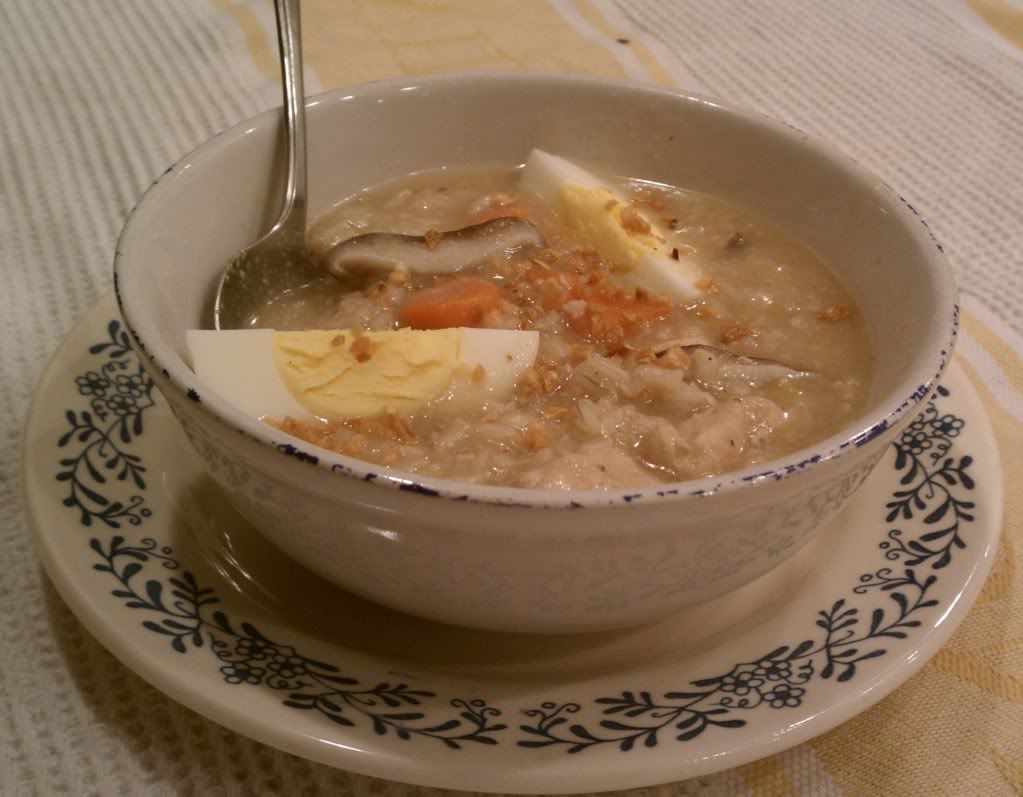 Arroz Caldo is quintessential of the Chinese/Spanish influence on Filipino cuisine. According to Wikipedia, "Arroz caldo is actually a Chinese congee that was adapted to the tastes of the Spanish colonial settlers who patronised Chinese restaurants in the Philippines." It "is usually spiced with safflower and black pepper in place of or in addition to the more traditional ginger and scallion. Arroz caldo more closely resembles risotto than congee, from which it can be distinguished by its bright yellow saffron colour and the relatively larger pieces of chicken meat."
So here you are. My version of Arroz Caldo! It became my version due to ingredients I had on hand. Instead of white rice, I used brown. I had no fresh ginger, so I used powdered. I used boneless, skinless chicken breast instead of skin-on, bone-in. I also added carrots and shiitake mushrooms. I had no safflower, so used saffron. I have to say, it turned out quite good!
Ingredients:
2 tbsp. vegetable or saflowwer oil.
1 to 2 cloves garlic, minced or pressed
1 cup onion diced, medium
2 medium carrots, chopped to bite-size or smaller pieces
1 ½ lbs skinless, boneless chicken, cut into bite-size pieces
1 ½ cups uncooked brown rice
2 tbsp fish sauce
1/4 tsp. ground ginger
32 ounces low-sodium chicken broth
1/2 cup water
6 oz. shiitake mushrooms, thinly sliced
4 to 5 hard boiled eggs, quartered (or leave them whole if you wish)
A pinch of saffron
Salt and pepper to taste
Instructions:
1. Heat the cooking oil over medium heat then saute the garlic and onion until onions are soft and aromatic.
2. Add the carrots and saute for about 3 minutes or cooked to just a slight crunch.
3. Add the chicken and cook until browned but not fully cooked, about 5 minutes.
5. Add the fish sauce, ground ginger and uncooked rice cook for about 3 minutes.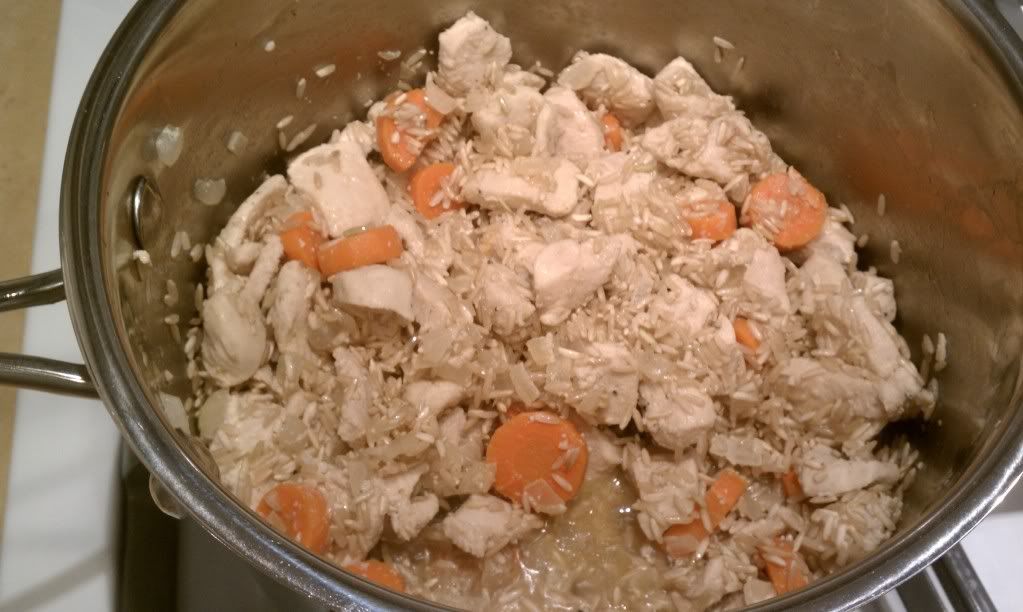 6. Stir in the chicken broth and water and bring to a boil.
7. Put on low heat, add the mushrooms, and allow to simmer until the rice is fully cooked (about 40 to 50 minutes), stirring occasionally to keep the rice from sticking to the bottom of the pot.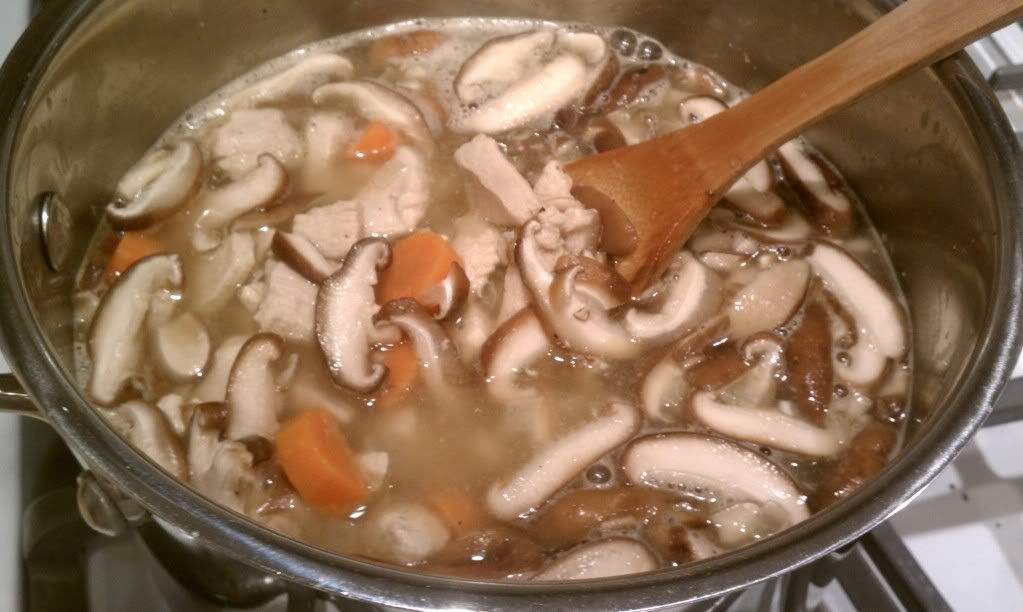 8. Add the saffron and salt and pepper to taste.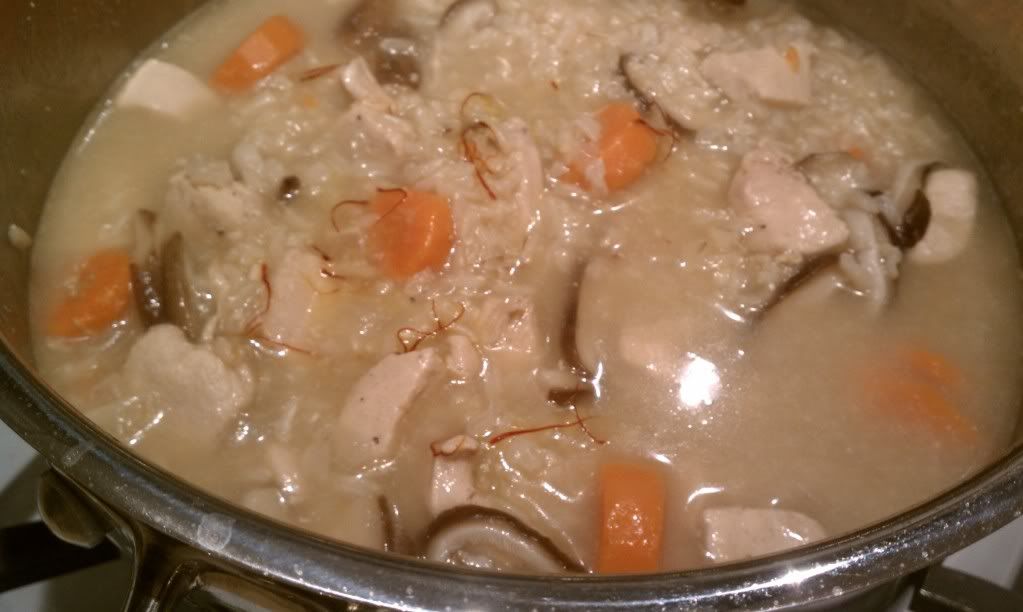 9. You can add the hard-boiled eggs at this point and garnish with toasted garlic (instrucitions below) and chopped scallions (optional), or add the eggs and the garnish to the individual servings. Serve with lemon wedges or calamansi.
Toasted garlic:
Simply saute minced garlic in oil over medium heat until golden brown. Spread the cooked garlic on paper towel lined plate to drain.
Enjoy!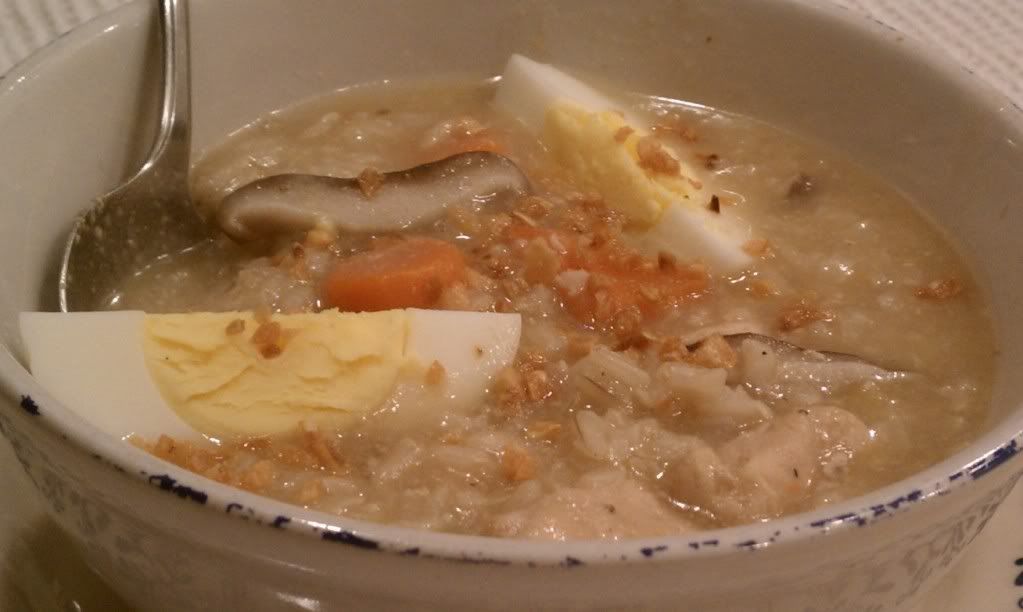 Please check out the Kulinarya Cooking Club website to see the fabulous entries of other members. Thank you Joy of Joy's Misadventures for stepping up to the plate and coming up with the Arroz Caldo theme for this month. Good choice!