Wow, I have a lot of catching up to do! Amazing how life gets so hectic, time flies and before you know it, certain "low priority" things get shelved for months! So I thought I'd make a quick blog before anyone following me loses further interest.
Recently, as I was going through and sorting stacks of saved, untried recipes printed from the internet, from old magazines, I stumbled upon this "Easy Chocolate Ice Cream" recipe from a trial Cooks County magazine that I got in the mail months ago, possibly even years ago! It caught my eye because it mentioned that it was made without an ice cream machine. I've been tempted to buy an ice cream machine in the past, but due to my smallish kitchen, I've held off. I really can't afford to have yet another small appliance in my kitchen due to space constraints, and if I store it in the garage, I'm afraid there it will stay indefinitely, forgotten.
As the article in Cook's Country indicated, this recipe is based on semifreddo (an Italian dessert) where whipped egg whites or whipped cream is folded into an egg yolk base. The twist to this particular recipe is the addition of condensed milk which provided its velvery texture, and coffee granules which heightened the chocolate flavor. The result, the best chocolate ice cream I have ever tasted. Dear husband John can attest to that himself as he continually made the "mmmmm...." sounds as he ate a bowl of it. This will definitely be a repeat recipe, especially with hot Summer months coming up!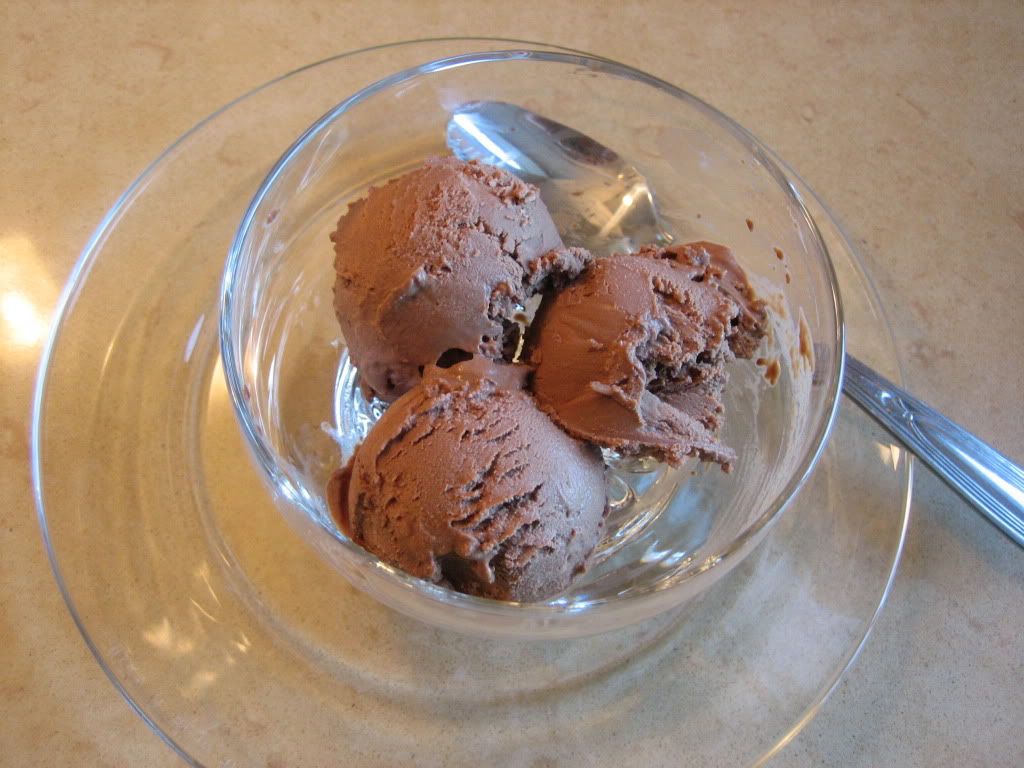 Easy Chocolate Ice Cream
(makes 1 quart)
1 tsp. instant coffee or espresso powder
1 tbsp. hot water
4 oz. bittersweet chocolate, chopped fine
1/2 cup sweetened condensed milk
1/2 tsp. vanila extract
Pinch of salt
1 1/4 cups cold heavy cream
Before the following steps, I put the mixing bowl in which I will make the whipped cream in and even the wire whisk attachment in the freezer and kept them there for a few minutes until time to use. I also keep the heavy cream in the fridge until it's time to whip it up. It seems to whip up faster when the cream is kept cold.
Proceed to make the chocolate base:
Combine the coffee (or espresso) powder and hot water in a small bowl. Let it stand until the coffee dissolves - about 5 minutes.
Skip the double boiler and simply microwave the chocolate, condensed milk and coffee mixture in a bowl, stirring every 10 seconds, until the chocolate is melted, about 1 minute.
Stir in the vanilla and salt. Let it cool.
Skip the ice cream machine and simply mix and freeze:
Take the mixing bowl, whisk attachment out of the freezer and start making the whipped cream. On medium high speed, whip the cream to soft peaks (about 2 minutes).
Whisk 1/3 of whipped cream into the chocolate mixture, then fold in the rest until incorporated.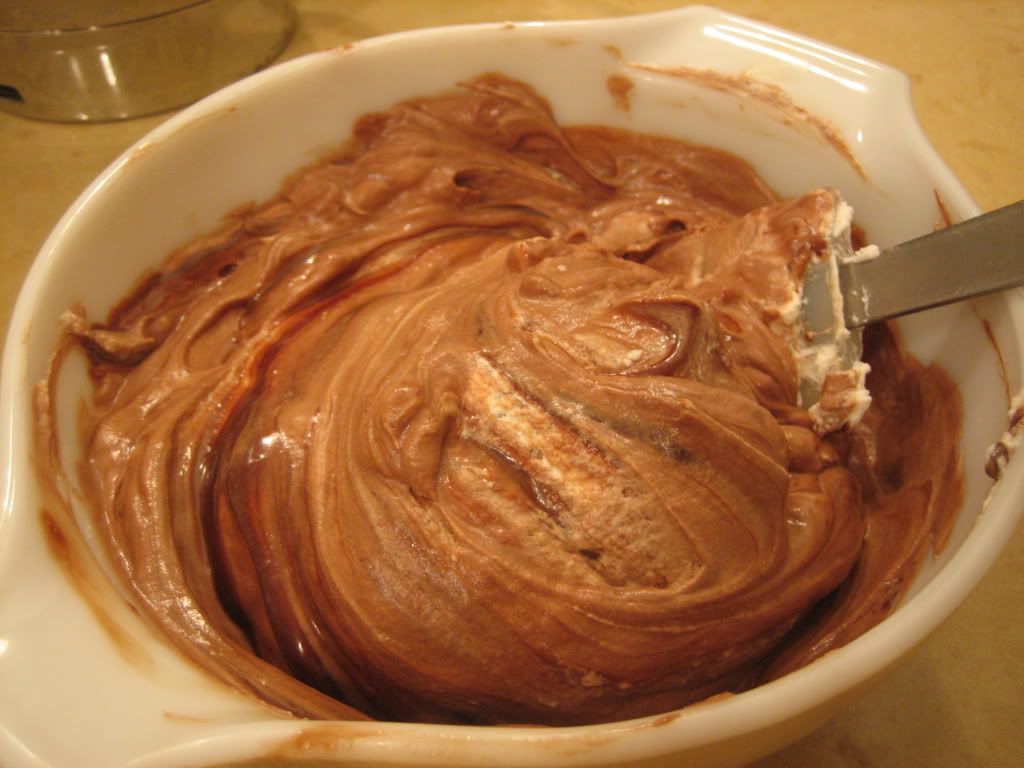 Pour the mixture into an air tight container and freeze for at lesat 6 hours.
That's it! Voila! So easy!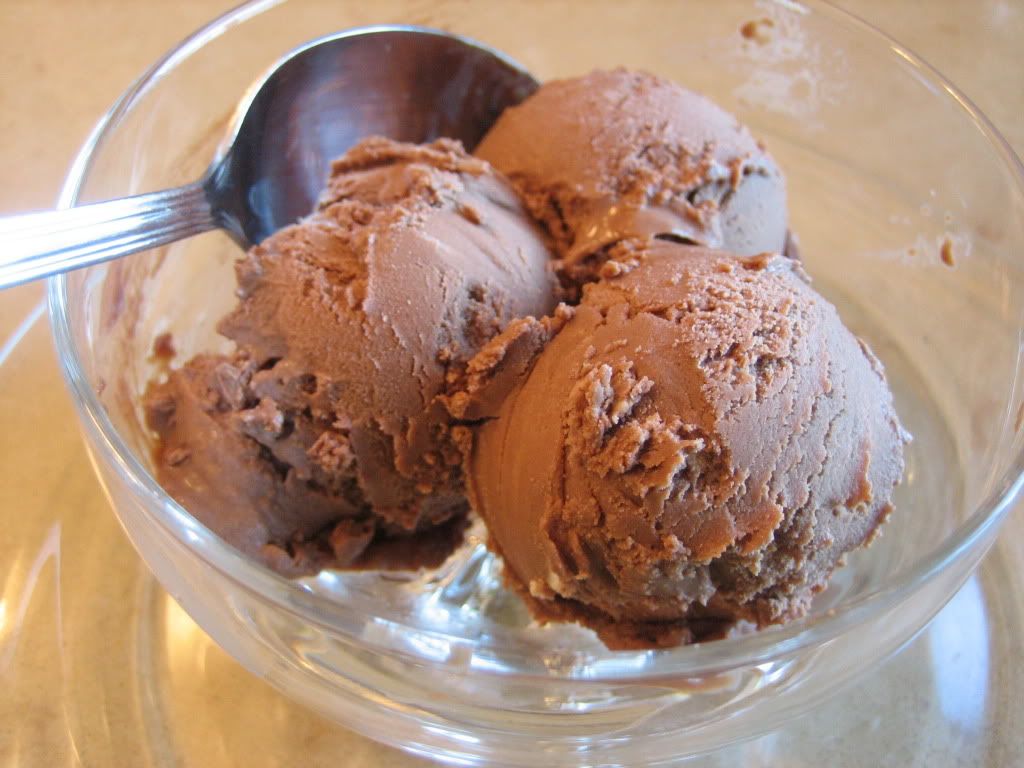 Perhaps in the future I would add, nuts, maybe some mini marshmallows, or raspberries, top it off with some chocolate syrup. Possibilities are endless.
Tip: If you plan to store the ice cream for more than a few days, place plastic wrap directly on its surface before freezing. This will prevent ice particles to form while in the freezer.
Enjoy!