Sooo...remember me? It's been a while!
Kulinarya Cooking Club is now reinforcing strict posting rules, one of which is that members must submit a post once every quarter. So I better get my you know what in gear!
Kulinarya Cooking Club was started by a group of Filipino foodies living in Sydney who are passionate about the Filipino culture and its colorful cuisine. As a Spanish Filipina, born in Calamba, Laguna, Philippines and raised for the most part in the Philippines, I have a vested interest in Filipino food, so I was thrilled to have found this group and did not hesitate to join.
Within the Kulinarya Cooking Club I have found the most fabulous people (both professional and home chefs) who have come up with amazingly creative Filipino dishes. Each month each KCC member will showcase a new dish along with their recipes. We share these recipes through our food blogs with other KCC members of our Yahoo group site as well as the rest of the world. Each dish is based on a creative theme thought up by members on the roster. All monthly themes must trace back to Filipino cuisine.
If you're interested in joining KCC or just looking for a good resource of Filipino food recipes, please go to the Kulinarya Cooking Club website.
The theme for the months of August/September was thought up by KCC members Ray of Wok with Ray, Oggi of I Can Do That, Chef Theodore Salonga of Chef By Day, and Boyet of Reel and Grill. The theme is based on two major Filipno festivities on these months which are National Heroes Day and Ninoy Aquino's death anniversary. Since both events are national, patriotic events, so Ray, Oggi, Chef Theodore and Boyet came up with the challenge to use all four colors of our beloved Filipino flag. These colors are RED, WHITE, BLUE and YELLOW.
So the rules/challenge for the month is to use the colors red, white, blue and yellow in our dishes. No food coloring allowed, but ok to include a color with a garnish or use one color on ONE non food item, such as a plate, a bowl. etc.
Phew! Now that's a challenge! So stop the gabbing already, foodgeek, and get on with your post!
After going through pages of Filipino recipes in my cookbooks and looking online, I decided to go with Buko ("Coconut") Salad. At first it seemed like a lame idea, too easy, but looking for something blue, preferably edible, to add to the mix proved to be the challenge! I started off with this -
I've got red, I've got white, I've got yellow (yes, there's yellow in there), but where's the blue? Hmmm...what to do, what to do.
At this point, I decided to keep the fruit salad in the fridge overnight while I figure out what to add that's blue.
Tic-toc, time is ticking. I'm already late for my post!
The only thing I could think of to add to this that is blue were blueberries. Not exactly Filipino, and the tartness may clash with the rest of the dish, but I figured, heck, why not. Of course, I could not find anything blue in my house to plate the salad on either, so I might just get desperate enough to go buy a blue bowl!
The next morning, after dropping Grace off at pre-school, I made a quick stop at Fresh and Easy on the way to work to look for blueberries. Of course, no blueberries. BUT!...there they were, shining on the shelf in the refrigerated section, like the holy grail - blue concorde grapes! Woo-hoo! Grab some quick! Oh, and maybe some strawberries to go with lunch. And, oh look, kale chips! Gotta try those. Ended up with a $30 grocery bill before I finally exited the store.
Ok, I know. Grapes aren't exactly Filipino either, but come on now, give me a break! They're blue and I'm stickin' with 'em!
Tic-toc, pretend hours have gone by and I have finally gotten home from picking Grace up from school after work. I've washed the grapes and added them to the mix. So here it is with the grapes...TADA!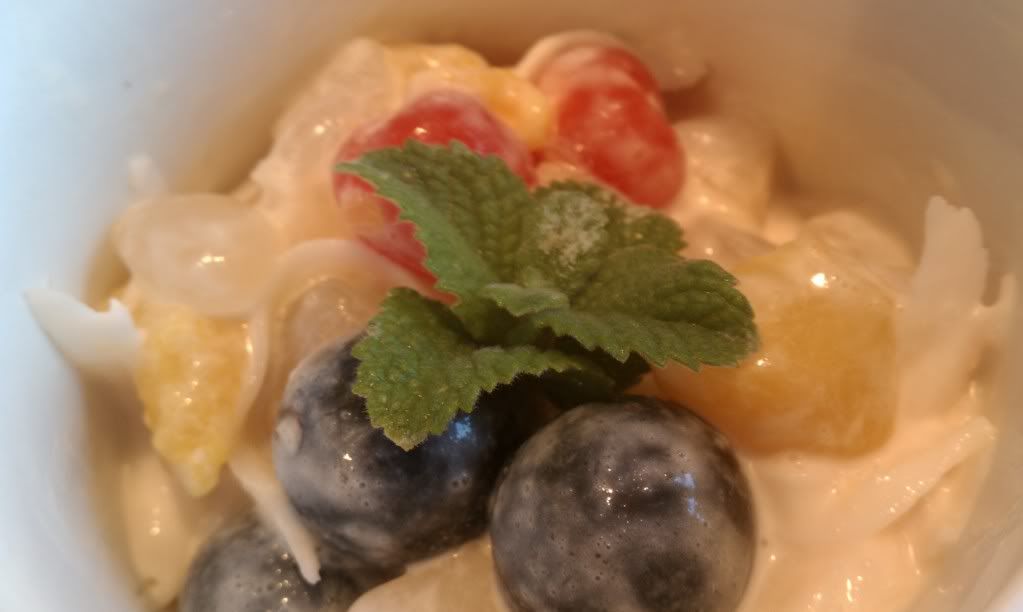 That is more like it!
Simple, but delish - that's what it's all about. Here's the recipe.
Ingredients:
1 cup heavy whipping cream
1 cup sweetened condensed milk
1 tsp. vanilla extract
1 cup maraschino cherries - red
2 cups young coconut strips (You can find this at the frozen section in Asian markets, usually packed in water. Defrost and drain.). - white
1 jar sugar palm fruit (kaong), drained (These are usually found in the canned fruit aisle in Asian markets.) - white
1 1/2 cups blue concorde grapes - blue
1 cup peaches (canned or fresh) diced - yellow
1 14 oz. can tropical fruit cocktail, drained
You can add any other fruit you like - chopped apples, pineapple cubes, jack fruit, etc.
Procedure:
Whisk the whipping cream, condensed milk and vanilla in a large bowl.
Add all the fruit to the dressing and mix to evenly coat.
Refrigerate or serve immediately.
For additional KCC member postings on this theme, go to the Kulinarya Cooking Club blog "August-September Challenge: Colors of the Philippine Flag".
Thank you Ray, Oggi, Chef Theodore and Boyet for this fun but challenging KCC theme. Well done!