I recently came across a cookbook called The Everything Rice Cooker Cookbook by Hui Leng Tay, when I went to check out Border's close out deals. I did a quick peruse and found some rather interesting, good sounding, mostly Asian recipes. At 40% off, I went ahead and added it to my pile of cookbooks to be purchased.
I have a rice cooker, which I have not used for anything more than cooking white and brown rice. Being born and raised in the Philippines, rice has been a regular staple in my home. But since I've lived in the US, I have gotten away from my daily diet of rice and "something else". These days I have added more pasta, potatoes, and even quinoa to my side dish options, instead of rice. With the rice cooker cookbook, I figured I can use my cooker for something other than rice, especially now that it is not being used so much. 
The first recipe I tried was the Chicken Barley Soup which turned out not only quite good, but easy to make! So I went on to try several other recipes, all of which were very good. I now wish I had this cookbook when my kitchen was being remodeled!
Recently pork was on sale at Sprouts. I had never tried a pork recipe from this cookbook so figured this would be the time. Looking at the different pork recipes, I chose Pork in Tomato Sauce. Ingredients and work seemed minimal.Sure enough, it was, both easy to make and good! It probably took about half an hour to make from start to finish. I had it for my brown bag lunch at work today over brown rice. It seems to taste even better the next day.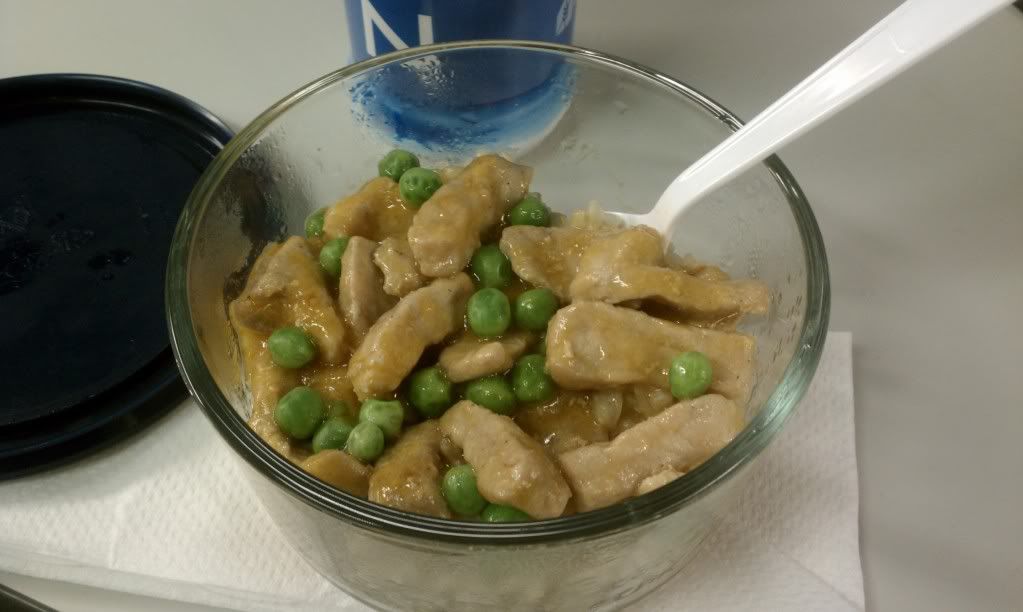 This stew recipe was so super easy, I just had to take a minute to share my "adaptation". Here are the basic ingredients:
½ pound pork tenderloin, thinly sliced
1 teaspoon dark soy sauce
¼ teaspoon salt
¼ teaspoon ground white pepper
½ teaspoon honey
1 tablespoon ketchup
½ cup water
1 teaspoon corn flour
3 tablespoons vegetable oil 
Procedure:
Combine the pork with soy sauce, salt, pepper, and honey. Leave to marinate in fridge for 30 minutes. I marinated it overnight since I had just finished cooking another dish for dinner and wanted to make this dish the following night.
In a separate bowl, combine ketchup, water, and corn flour. Set aside as sauce.
Add the oil to the rice cooker, cover, and set to Cook. When the base of the cooker pot gets warm, add the pork and fry about 8 to 10 minutes until browned and partially cooked through. Dish out and set aside. Leave the remaining oil in the pot.
Add the prepared sauce to the pot, stir well, cover rice cooker, and allow to reach a simmer. Once simmering, return the pork to the pot, cover rice cooker, allow to reach a simmer, and let it simmer for about 8 to 10 minutes. If mixture bubbles too vigorously, switch to Warm and continue to simmer for the remaining 8 to 10 minutes until the pork cooks through and sauce reduces (thickens).
I didn't go too far off on this recipe except that I did add some frozen peas towards the last few minutes of the cooking. In the future, I might saute some potatoes and carrots in the beginning, set it aside, proceed with the recipe, then add the potatoes and carrots towards the end to heat through and finish cooking. I might also saute some onions and garlic in the beginning as well. The ketchup is already seasoned and salty enough that I chose not to add anymore salt. Another idea would be to add some bokchoy at the end.
This very versatile and adaptable recipe is now my new favorite quick recipe. The best part is that my two year old loved it!